Saxgourmet Power Plate Ligature
$75.00
Description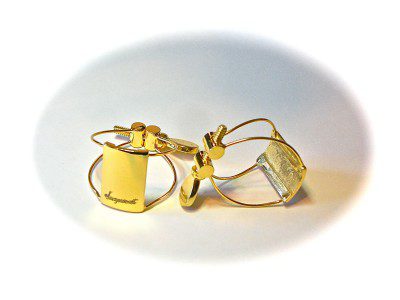 The problem has always been how to hold the reed securely on the table of the mouthpiece and allow it to vibrate freely at the same time……many ligatures actually dampen the reeds vibration, causing slow response, clumsy articulation, and a lack of tone and projection……we experimented with quite a few different designs before settling on this one…..the Power Plate has two rails which extend THE ENTIRE LENGTH of the base in order to hold the reed in perfect position and prevent side to side movement…..the thin metal bands do not touch the mouthpiece sides, so the full resonance of the reed is in no way dampened.
We make this ligature in different sizes to fit MOST hard rubber (but not metal) alto and tenor mouthpieces…….in order to get the correct size ligature to you, we need to know the brand and model of your mouthpiece AND the diameter of your current ligature …..this is most important!
If you have any questions whatsoever about this innovative ligature, or how to measure your mouthpiece, just give us a call during our regular business hours at 504 – 324 – 3850 and we will be happy to help you!