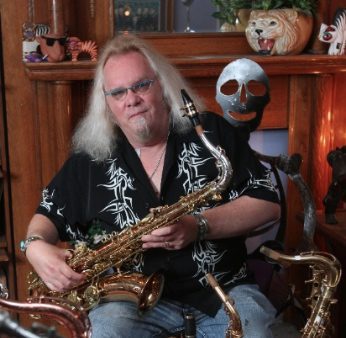 We started Nation of Music in order to provide the very highest quality instruments and accessories at the lowest possible prices to saxophonists. Our unique business model makes this possible. We do not sell our instruments and other products through a conventional dealer network, and pass the savings along to you.
I've been involved in some aspect of the music business on a professional basis since 1963, when I started taking money for playing. Quite a few members of my family on both sides played professionally, so it was a rather natural thing for me to pursue. I've been very fortunate to have had some excellent teachers over the years, and feel very strongly about passing that knowledge on. I keep a full studio of students so I can teach what I've been taught. I retired from active performance in 2003 for reasons of health. Prior to my retirement, I had played with pretty much everyone who was ever on Motown, Solomon Burke, Eddie Money, Dr. John, Marcia Ball, Chubby Checker, Vince Vance, and many, many other internationally know performers. I've done hundreds of recording sessions and played thousands of live gigs everywhere from huge stadiums to tiny bars. I got to see a lot of the world and meet a lot of interesting people.
I always was fascinated by the way instruments work, and began doing repairs (my own) in 1964. As my skills improved and my following increased, my client list expanded to include such luminaries as Maceo Parker and the late Michael Brecker, along with hundreds of loyal customers from all over the world. My repair experience led me to instrument design. I knew I could improve on what was available. I am very proud that instruments of my original unique design have been marketed throughout the world for almost fifteen years, and that thousands of horns bearing my name are circulating through the musical community. I also make mouthpieces, necks, and have designed many original accessories for saxophones. Our products are all unique to us, and are not available anywhere else.
My articles about saxophone design have been widely published by music magazines in North America, South America, Europe, and Asia. I currently write for every issue of Saxophone Today (www.saxoph0netoday.com) and do freelance writing for other publications.
I am a member of AFM Local 174 in New Orleans, the North American Saxophone Alliance, the Jazz Educators Network, and NAMM.