Saxgourmet Handmade Tenor Saxophone Mouthpiece
$600.00
Description

Now with our Saxgourmet Ligature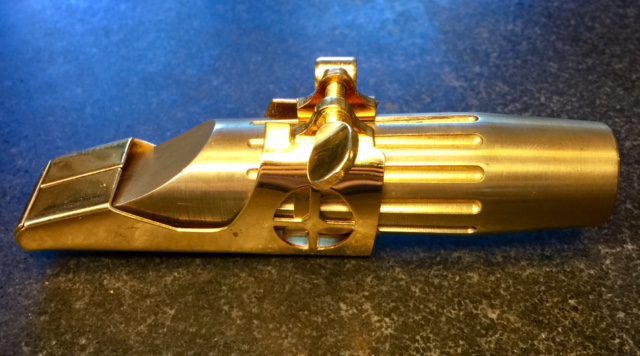 SUPER MASSIVE, AND EXTRA LONG  the Handmade is the heaviest tenor saxophone mouthpiece offered for sale anywhere. More mass gives the Handmade a tremendous presence and rich core to the sound. The long, thick shank focuses the extra mass at the rear of the mouthpiece, where this effect is most pronounced. The Handmade is intended to be played very far up on the neck cork.
RADIAL DUCKBILL BEAK  the extremely pronounced duckbill beak of the Handmade yields a tremendous amount of projection
SHORT VERY HIGH BAFFLE LEADING INTO A TRULY ENORMOUS BULLET CHAMBER  this very complex design yields an extremely balanced sound, with plenty of cut and projection, but with rich, lush lower overtones. The chamber is perfectly round with absolutely no obstructions which makes the Handmade the most free blowing mouthpiece we have ever offered.
EXTREMELY NARROW TIP AND SIDE RAILS  give perfect, instant articulation at all dynamic levels.
ONE PIECE CONSTRUCTION  the Handmade is machined from a single billet of bell quality brass. There are no seams. The sides of the Handmade are beautifully fluted. The brass is left unlacquered.
A VERY LONG PURE RADIAL FACING CURVE  the Handmade facing curve measures 52 on a standard mouthpiece gauge. The extra long curve gives a bigger dynamic range and provides unusually rich and lush lower notes.
INDIVIDUALLY HAND FACED  each Saxgourmet Handmade is hand faced at our offices in New Orleans, and each one is play tested by Steve Goodson.
QUESTIONS?  CALL US!  (504) 324 – 3850